Majestic Tents Range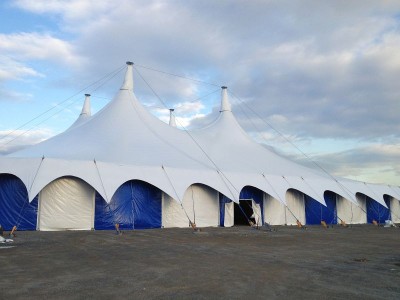 At 50 metres wide, Somersault Productions' newest range, The Majestic, boasts the widest span of any marquee structure currently in Australia.
Manufactured by the World's best tent makers in Italy, we have incorporated the best design features of circus big tops and pavilions to produce this unique eye-catching structure which will set your event apart from the rest.
The Majestic marquee has an attractive 1.8 metre scalloped roof extension which is perfect for Festivals as it not only gives extra shade coverage but allows for patrons to walk completely around the marquee undercover.
Side pole spacings are 5 metres apart allowing for easier vehicle access as there is no need to remove poles. This also reduces the number of pegs around the marquee, reducing safety hazards.
The side walls are assembled on kadar tracks, so no more walls flapping in the wind.
The Majestic Marquee is the number one tent to hire for a first class event.
Gallery
Please click for slideshow
Majestic 2
Majestic 4
Majestic 6
Majestic 8
Majestic 10
Majestic Foyer
The Majestic foyer is suitable for a smaller stand-alone event or to compliment a larger function as a meet and greet area, dressing room or as beverage facilities.
We can configure our tents to your event's requirements. Our tent foyers are fully enclosed structures, white inside and out with 100% block-out.
Gallery
Please click for slideshow