First time FPV drone racing held in a big tent in Australia!
Enjoy this spectacular event at the Avalon International Airshow 2019, featuring FPV racing pilots from the Australian Defence Force and Eastside FPV Melbourne club.
Within the spacious interior of the 50 x 35 Somersault Productions Majestic Marquee, the latest racing FPVs compete on a course of gates and obstacles.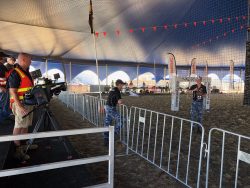 FPV drone racing is a growing sport in Australia where competitors control drones equipped with cameras.
"FPV" refers to First-Person View radio control of a vehicle from the driver or pilot's point of view.
#FPV drone racing spectacular at Avalon International Airshow 2019 under Somersault Productions Marquee - a big tent for a big event!
Click To Tweet
Somersault Productions provides big tents for your big FPV event!