Here's how to make sure your event is a raging success

Organising a festival or special event can be an exciting but stressful time.
Planning the acts and getting artists or vendors on board is fun, but the logistics can be a nightmare if you don't know where to start.
Thankfully, with some careful planning and preparation, you can have your big event running like a well-oiled machine.
Here are a few tips to get you started. You can also download our 10-step checklist for an awesome festival or special event.
Timing is everything
When you're organising a large event, timing is critical. You need to give your team plenty of time to plan and prepare, while also making sure that your big day doesn't clash with someone else's – because that could have a big impact on crowd numbers.
You also need to consider the time of year you'd like to hold the festival. Will it be hot or cold, sunny or rainy?
If it's an outdoor event, you may need lots of cover and protection from the elements.
These things will affect your equipment and set-up, and even the atmosphere of your event.
Keep cash flow in check
If you're starting your own festival or coordinating one that's been around for a while, keeping the cash flowing is essential.
To help with this, you may need to pre-sell tickets or organise sponsorships.
It's also important to keep your budget on track and avoid spending all your cash on your star attraction.
Choosing a location or site
To decide on a location or site, you need to consider the size of your event and what access points, permits and facilities you'll need.
If you're organising a music festival, you'll need plenty of room for the stages and backstage areas and, if it's a weekend event, you'll also need to consider space for camping.
If you're using circus tents like The Majestic, which boasts the widest span of any marquee structure in Australia, you might need to check if you can use pegs on the site.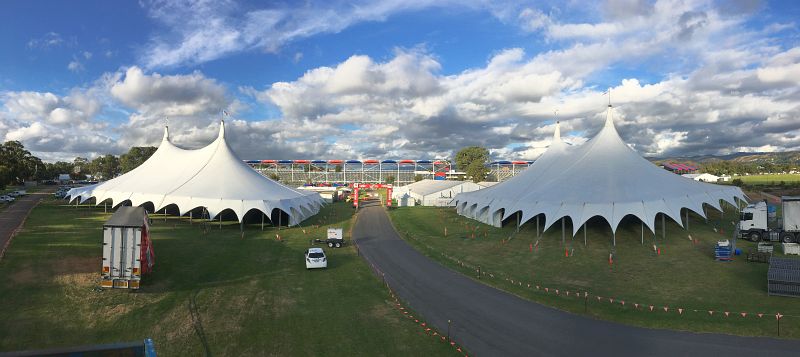 Don't forget the essentials
A few essentials for every major event are:
power
safety and security
food and drink
toilets and waste.
Make sure you have a plan for how you're going to manage these essential elements. For example, you might need to hire generators and a security team, organise food stalls or catering – and don't forget the humble port-a-loo!
Be confident and flexible
With some solid preparation, you can feel confident that your special event will run smoothly and seamlessly.
Check and re-check your procedures, and be ready to adjust on the go.
Most of all, have fun and enjoy the ride!
Looking for the perfect tent for your next festival?